Investment Opportunities
Lisburn Castlereagh City offers a diverse range of investment and property developments. As well as growing the manufacturing and research base we have high demand for developments in:
To view the investment opportunities available in the Lisburn Castlereagh area please click here
If you are MIPIM Cannes this week then please be sure and meet with Lisburn & Castlereagh City Council at stand C19.D to be in with a chance to win our prize which includes a VIP tour of the Royal Residence in Northern Ireland, Hillsborough Castle & Gardens.
Also included are: return flights to Belfast for two people, two nights B & B in the luxury La Mon Hotel & Country Club, a round of golf at the prestigious Lisburn Golf Club and complimentary drinks in The Hillside, Ireland's oldest pub.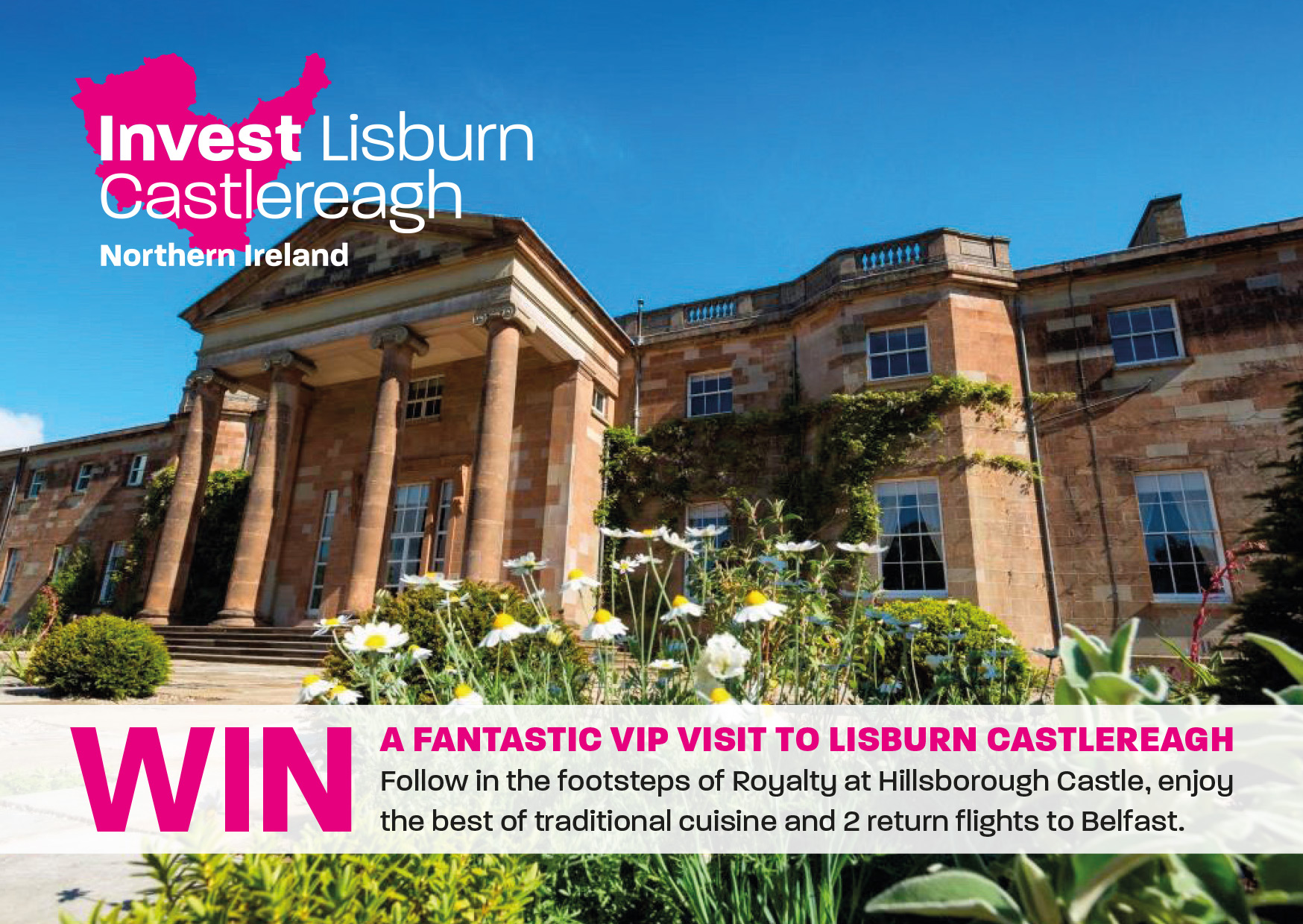 Ts & Cs:
Introduction
1.1 These rules apply to all competitions, prize draws, promotions, giveaways and suchlike that are promoted by the Council.
1.2 To enter a competition you must enter as directed by Lisburn & Castlereagh City Council officers or on our digital platforms.
1.3 Our competitions are free to enter.
1.4 Promotions on social media are in no way sponsored, endorsed or administered by, or associated with, Facebook, Twitter, Google Plus, Instagram, LinkedIn, Mailchimp or any other social network. You are providing your information to Lisburn & Castlereagh City Council. The information provided will be used in conjunction with our Privacy Policy.
2. Eligibility and entry restrictions
2.1 To be eligible to enter a competition:
(a) entrants must be a real person, at least 18 years old.
(b) entrants must not be our employee, officer or agent, or an employee, officer or agent of any person or organisation involved in the running of the competition, and you must not be a family relation of any such person.
(c) Competition entrants for our promotions on social media must have a genuine account and must 'like' the Lisburn & Castlereagh City Council social network page (Facebook, Twitter etc.) as part of the entry process.
2.2 The maximum number of entries to a competition per person is 1.
2.3 All winning vouchers much be used within 1 year of receipt by email.
3. Start and closing date
3.1 The competition shall open for entries 09.00hrs (CET) Monday 9tth March and and similarly, shall close to entries at 20.00hrs (CET) Thursday 13th March.
3.2 Any entries received before the opening or after the closing of the competition will be invalid and will not be entered into the competition.
3.3 No responsibility can be accepted for incorrect or incomplete entries whatever reason.
3.4 We reserve the right to cancel or amend the competition and these terms and conditions without notice in the event of a catastrophe, war, civil or military disturbance, act of God or any actual or anticipated breach of any applicable law or regulation or any other event outside of our control. Any changes to the competition will be notified to entrants as soon as possible by us.
3.5 Entry into the competition will be deemed as acceptance of all of these terms and conditions.
4. Judging
4.1 If a competition entrant does not meet the eligibility requirements or is subject to any entry restrictions, that entrant shall not be entitled to be adjudged a winner, and will not be entitled to a prize in any circumstances.
4.2 Our decision in respect of all matters to do with the competition will be final and no correspondence will be entered into.
4.6 The competition and these terms and conditions will be governed by UK law and any disputes will be subject to the exclusive jurisdiction of the courts of Northern Ireland.
5. Winners and prizes
5.1 The results of a competition will be announced on our website within 30 days following the closing date of the competition. The announcement may include the name and photograph, the town or region of residence and prize details of the prize winner.
5.2 If the winner fails to respond to our notification attempts or fails to meet any of the eligibility requirements or is otherwise unable to comply with the competition terms and conditions, we reserve the right to disqualify that entrant and offer the prize to the next eligible entrant and thereafter until a winner is found.
5.5 No cash alternative to the prizes will be offered. The prizes are not transferable. Prizes are subject to availability and we reserve the right to substitute any prize with another of similar type.
8. Publicity
8.1 We may undertake publicity activities relating to competitions and prize awards. The winner therefore agrees to the use of their name, photograph and disclosure of town or region of residence in any post-prize-winning publicity names, surnames, towns or regions of residence and prize details.
8.2 All other personal details collected as part of the competition will be used in conjunction with our Privacy Policy.
9. Our details
9.1 This prize competition is run by Lisburn & Castlereagh City Council
9.2 Our registered office is Lagan Valley Island, Lisburn, Co Antrim, Northern Ireland, BT26 4RL
You can contact our Investment Team
(a) by post, using the postal address given above;
(b) using our website contact form
(c) by telephone, on +44 (0)28 9244 7484